Deaver Retractors History, Types & Functions
It is crucial to choose a right instrument for abdominal surgery. We are mentioning all the variations of Deaver retractor to let you select the right one.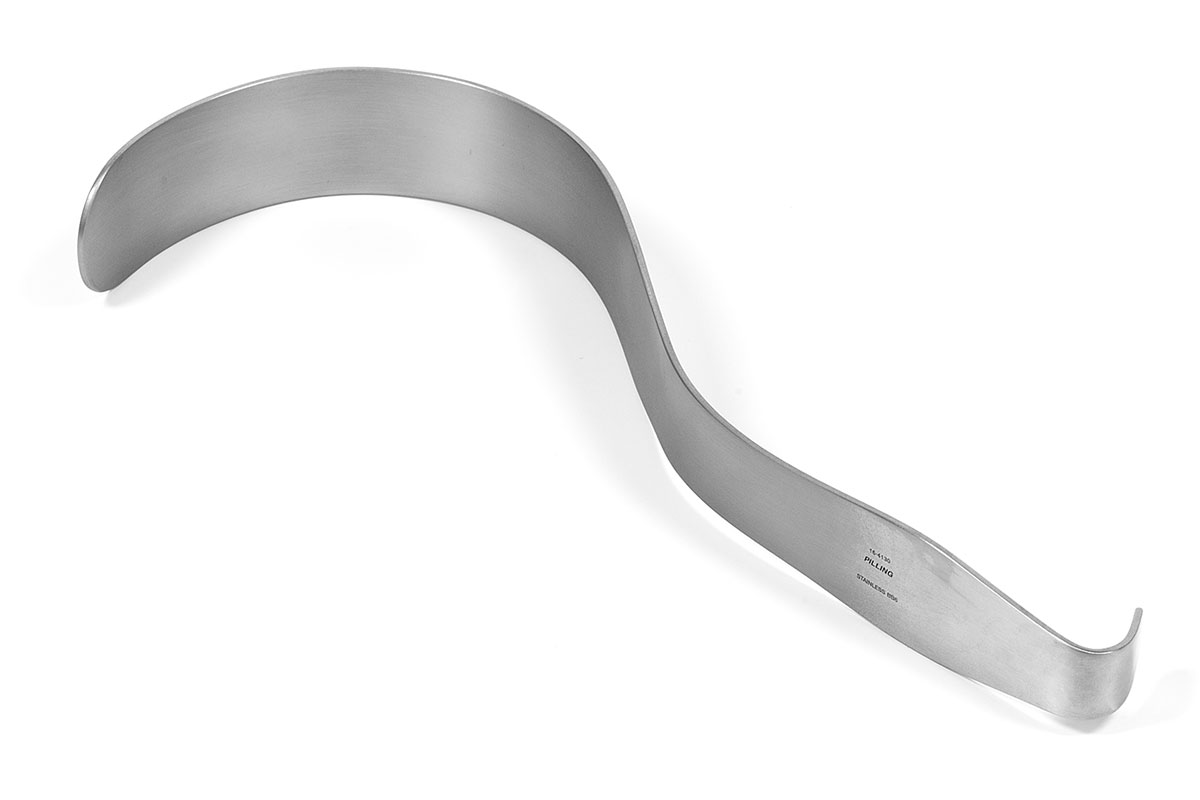 deaver retractor
Ever wondered how surgeons perform abdominal surgeries? For example, how do they open large muscles for thoracic or abdominal procedures? Well, there are many instruments specifically made for this purpose. For example, the Deaver Retractor is a handheld retractor generally used in different procedures for this purpose.
The Deaver Retractor is an instrument to hold back the abdominal wall during abdominal or thoracic procedures. For example, the Deaver retractor holds the organs or tissues away from the surgical site during a procedure. Hence, most abdominal or chest surgeries require a Deaver retractor. It is similar to a question mark with a thin, flat blade. In addition, it features curved, smooth ends, which are held at the incision site by hand or clamped into place.
The handle of the Deaver retractor is the same width as the retracting blade. In addition, it features a curved handle that prevents slipping. Unfortunately, the surgeon assistant often has to hold these handheld retractors for prolonged periods, which is exhausting. Therefore, using a Deaver retractor for long surgeries is often not preferred.
History
The history of retractors dates back to the seventh century. The retractors were modified with time, and now a range of retractors are available. Although its first depiction was seen in the late 1920s, it is unclear when the Deaver retractor was first developed. 
The modern deaver retractor is according to the 1930s model. It is named after surgeon John B. Deaver, known for his abdominal surgery expertise. The Deaver retractor today is a handheld retractor popularly used in abdominal procedures.
Types of Deaver Retractors
Deaver is available with many modifications according to the requirement of procedures. Therefore, you can get many variations of retractors that differ in design and size, as well as in different types of handles. However, most surgeons prefer the Deaver retractor that provides them firm grip, so the choice varies. 
In addition, the deaver retractor varies according to age group. For example, the retractor for adult surgeries differs from that for children. Some popular variations of the Deaver retractor often used in surgeries are the following. Go through the different types so that you may select the appropriate one.
Deaver Retractors Plain Handle
Deaver Retractors Plain Handle is for retracting the deeper body tissues from the chest and abdomen. This instrument variation comes with a straight grip handle that provides atraumatic application.
Deaver Retractors Hollow Grip Handle
Deaver retractor Hollow Grip Handle is known for the special design of its handle. It has a hollow grip handle that can easily retract the body tissue. For example, it features an ergonomic handle with finger grooves for a firm grip. This instrument is available in variable lengths and widths.
Pediatric Deaver Retractors
Pediatric Deaver retractors are specialty retractors for pediatric surgeries. It is made for handling and retracting delicate tissues in various surgical practices. The Pediatric Deaver retractors are shorter and thinner than other retractors to handle soft muscle children.
Deaver Retractor Thin Handle
Deaver Retractor Thin handles are retractors with thin widths. It is an instrument used in narrow incision sites to push back organs. In addition, the lesser width is ideal for thoracic surgeries. Finally, the thinner handle provides a comfortable grip during surgical procedures.
Uses of Deaver Retractors
Surgeons use Deaver retractors in surgical procedures such as cholecystectomy and chest and abdominal surgeries. Deaver retractors enable the surgeon to perform operations faster and more accurately. In addition, it features a long handle, making holding it in position easier for you during surgery. Usually, the retractor is held in place by a surgical assistant instead of the surgeon. However, it might get uncomfortable to hold it for a prolonged period. The Deaver Retractor with an ergonomic handle will enable deep tissue retraction easier, such as during chest or abdominal surgeries.
Conclusion
In simple words, the Deaver retractor is an incredible tool for abdominal and thoracic surgeries. It is a handheld retractor that has a long history in surgical procedures. There are now many variations of this tool available according to the type, size, and other features. It has smooth edges, which prevents trauma to the tissue held in a place. 
GerMedUSA.com is a great platform for different types of surgical instruments. Deaver retractors of various variations are available to suit your needs. It is essential to purchase an autoclavable tool for surgery to prevent contamination. All the Deaver retractor instruments at GerMedUSA are German forged, which makes them autoclavable. In addition, this platform has been in business for years, making it ideal for surgical tools. As a professional surgeon, you require reliable tools, so it is best to rely on the known business.
Frequently Asked Questions
What is the use of a Deaver retractor?
The Deaver retractor is an instrument to retract deep abdominal or chest incisions. Cholecystectomy and abdominal and chest surgeries require this tool to retract the organs and tissues.
What does a Deaver retractor look like?
The Deaver retractor has a structure similar to a question mark. It has a circular head with a flat handle. In addition, its unique structure makes it look like a hook.
How do you use Deaver Retractor?
Deaver Retractor has a long handle to hold it during the surgery. The tool's edges are smooth to hold the tissue while setting the position with the handle.