SEO vs SEM - What's the Different?
By comparing SEO and SEM, you can easily differentiate which type of strategy is best for you to get a better ranking on google search results.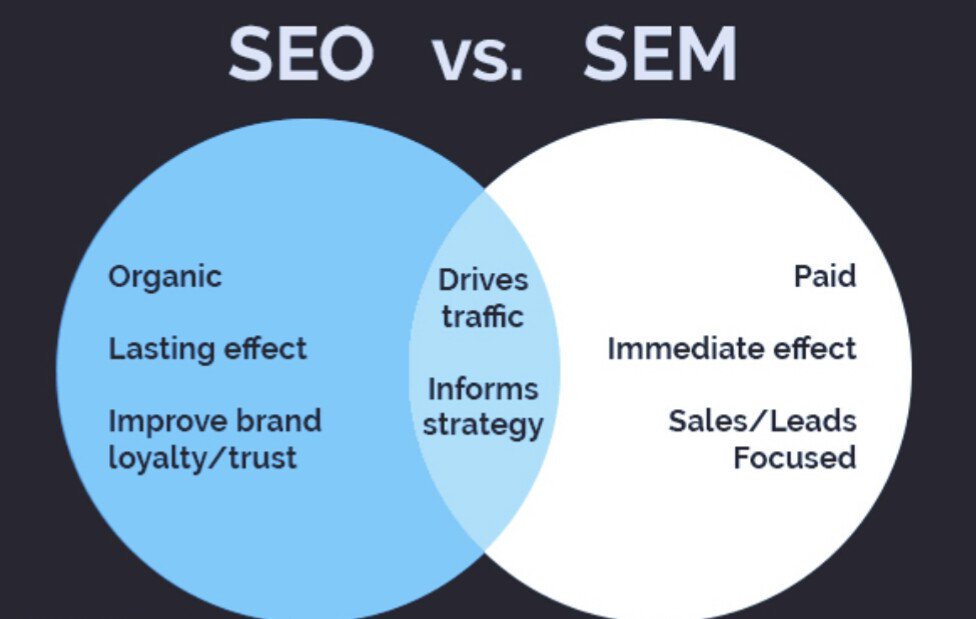 seo vs sem
In this post, I'll provide a thorough discussion of how SEO and SEM refer to and their differences.
Is SEO a thing?
SEO is a digital marketing process that is used to improve a website for better ranking on the results pages of search engines. In essence, it's a strategy used to generate organic results from major search engines, such as Google.
No matter what field your business is in, SEO will be crucial. The primary reason for creating the website is to get in touch with prospective customers. However, the site alone isn't enough. If your prospective customers are searching for your product or service online, and you're not listed on the Internet, there's no reason to have websites.
It is the reason you should make your website search engines that can comprehend your site's content and increase the chances of being ranked highly on search results pages for terms or keywords your prospective customers are currently seeking.
The essential elements of SEO
There are three essential aspects of SEO
On-Page SEO - implement optimization strategies to specific pages and articles on your site to get them to rank for specific keywords.
Technical SEO is a procedure to optimize your site to be crawled and indexed. Technical SEO assists in getting your website crawled and indexed by robots for search and then indexed in search results pages with no issues.
Off-Page SEO is acquiring hyperlinks (references) to other relevant sites to increase credibility and trust in search engines.
What exactly is SEM?
Numerous sources have stated that Search Engine Marketing (SEM) is the result of combining SEO and paid Ads (Google Ads and Bing Ads). Based on my knowledge, SEM is a digital marketing technique to get your brand's name visible to potential customers via paid advertisements.
You can purchase the space on the search result pages and other search engine sites. This method of payment allows you to be more prominent on search engines without having to rank organically. The most well-known form of paid advertising is Google Ads (formerly Google AdWords). There are other ad-based networks, too; however, Google Ads is number one in paid search ads.
With Google Ads, you can make ads for your products and services(you have to adhere to Google Ads guidelines and guidelines). It is only necessary to pay for each time someone clicks your advertisement. But, if your field is highly competitive, the price per click (CPC) may be costly.
You'll be amazed to learn the amount Amazon invests in Google Ads alone each month.
It's close to $31.4m (RM127,565,640.00). Don't get scared, folks.
Amazon has more than $17.5b in monthly net sales. The total revenues from Amazon for 2018 stood at $232.887b, which covers all their services and products.
Bing and Yahoo provide similar services, but they're not as effective in the same way as Google Ads. As per Statista, Google has a market share of 87.96 percent, while Bing has 5.27 percent. Companies spend more money on Google Ads than other advertising companies that pay for paid searches.
SEO or SEM
I'm a fervent supporter of SEO. Search engine optimization is the best online marketing strategy for long-term success.
If your website is ranked with relevant keywords, this will enable you to attract thousands of users to your website. In addition, your business will be recognized online.
When we consider PPC campaigns, it is clear that these truly provide targeted traffic from search engines, but you need to be paid for the privilege. When you stop running paid-for search campaigns, your traffic will be gone.
I think that SEO is a process that requires investment, too. However, the difference lies in that traffic that you get organically doesn't disappear when you don't invest money in the process of optimization. The traffic may decrease, but it will not stop completely.
Note: socialfollowerspro
It is essential to understand that search engine algorithms are frequently and constantly updated. It is essential to consider these changes and continually optimize your website to stay on top of the results pages of search engines. If the optimization stops for your website, the traffic to your website and performance will begin to decline.
The benefit that comes with PPC can be that it provides immediate results when compared to SEO. SEO takes longer and the proper method to get the results you're hoping for.
Which one do you choose to go with? SEM or SEO is contingent on your goals for digital marketing and budget. If you're searching for quick traffic, SEM or paid search should be the ideal option. SEO should be your best option if you're looking for long-term benefits for your company.
From my perspective, I would suggest mixing both SEO and SEM if your budget allows it. This is because you will constantly generate traffic through paid search ads while you work to improve your SEO strategies. It is possible to gradually reduce the PPC budget as you start to earn natural search results.
Instead of just waiting around for SEO to yield outcomes, now begin creating specific traffic for your website and begin attracting the best potential customers for your company.
Can SEM aid SEO?
Many people with no understanding of digital marketing typically think that when they invest in paid search ads, Google will start to rank their website organically.
You're completely wrong!
If you're using PPC for your business, you'll focus on specific keywords relevant to your business, and you will set the price for each click. This isn't connected with the effectiveness of your SEO efforts. There are over 200 elements that affect organic search rankings on Google, and PPC isn't one of them.
What are the reasons Search Engine Traffic is Important for Your Business?
As per Zero Limit Web, the first five organic results of the first page alone are responsible for 67.60 percent of all clicks.
Search Engine Watch has mentioned that 94% of SERP clicks come from organic results.
The traffic generated by search engines is one of the primary traffic sources on the Internet for any site. Many people use search engines to find solutions to their issues. Google will be the very first thought that pops into their minds.
If people click on specific websites from the search results page, it is more likely to get the information they're seeking. The relevance of websites listed on the results pages of search engines is higher than different sources for traffic. While social media traffic is growing over time, however, search engine traffic has the greatest return on investment.
Conclusion
Many digital marketers say that one is better than the other. I'd argue it is the latter. SEO is the most effective digital marketing strategy. However, paid search marketing is more effective than SEO when you've just launched your website. It's not realistic to expect any traffic if you're starting until you're prepared to invest in the traffic. Don't become confident with PPC and neglect SEO, as you don't want to forfeit your long-term growth potential.